Sunday May 01, 2011
MAY 1, 2011
The past few months I haven't had much to update, as I've spent most of my time hibernating in the studio, working feverishly on my latest series of paintings called "Reclaiming." With forays into new subject matter and larger sizes than I've ever painted at before, this new series will carry on the thematic evolution from my last large series of work, "Rebuilding," which itself was a continuation of themes from a prior series titled "Surfacing."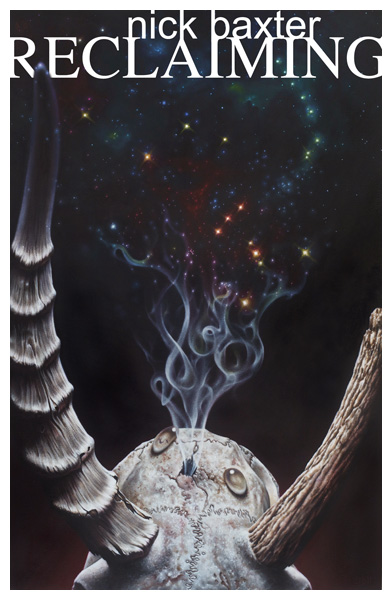 I'm incredibly excited to unveil this new body of work in a few months--I feel it's my most fully realized and technically proficient work yet. This show of all new paintings will open on July 7th, as part of Portland Oregon's first Thursday art event, at Nisus Gallery. More details on the work and the gallery opening will be posted soon.
I'd like to give a little shout to the traditional worker's holiday of May Day, celebrated every May 1st. Once widely popular throughout the world, this holiday celebrating working class solidarity has declined in recognition, not surprisingly, alongside the rise of global corporate capitalism and decreased political awareness of the working class.
Lastly, if you're in the Austin, TX area and want to deepen your critique of the types of issues I regularly post about on my website, and which nearly ALL of my artwork is concerned with on some level, please join my friend Trevor and I as we host a screening of the new documentary END:CIV, which is based on the work of radical environmentalist Derrick Jensen. You can find event details here, and here is a synopsis of the film from its website:
"Endless economic growth has turned into a global economic crash. What will the next hundred years bring?
Students of history know that all civilizations eventually come to an end. The ancient Mayans, the dynasties of China, and the mighty Roman Empire, as long-lived and powerful as they were, could not escape this inevitability. The same goes for the culture we call Western Civilization.
The causes underlying the collapse of civilizations can be traced to overuse of resources. As your eyes move across this screen, the world is reeling: economic chaos, peak oil, climate change, environmental degradation, and political turmoil. Every day, newspaper headlines re-hash stories of scandal, government corruption and betrayal of the public trust. We don't have to make outraged demands for the end of the current global system — it seems to be coming apart on its own.
But acts of courage, compassion and altruism abound, even in the most damaged places. By documenting the resilience of the people hit hardest by war and repression, and the heroism of those coming forward to confront the crisis head-on, END:CIV illuminates a way out of this all-consuming madness and into a saner future."