7/14
Sunday July 06, 2014
July 2014
Phew...I've been so busy with various projects and life changes lately that I havent made a news update in several months. Well, now that I've got a few things settled I have some fun things to announce and unveil.
The biggest thing on the list is the re-release of my instructional painting book Sharp-Focus Realism In Oil, as a digital eBook. I wrote a bunch of new content for this edition, and priced it lower than the sold-out hardcover edition, which means that you basically now get more, for less. For now I've partnered with the great people at 2 companies I endorse to make this eBook available. You can now buy a copy over at the Stay True Organics website, and soon, at the Tattoo Education website as well. All of the information on the book, including a great testimonial by a fellow tattooer/painter, can be found by clicking the new "PAINTING EBOOK" button to your left, or on the image below.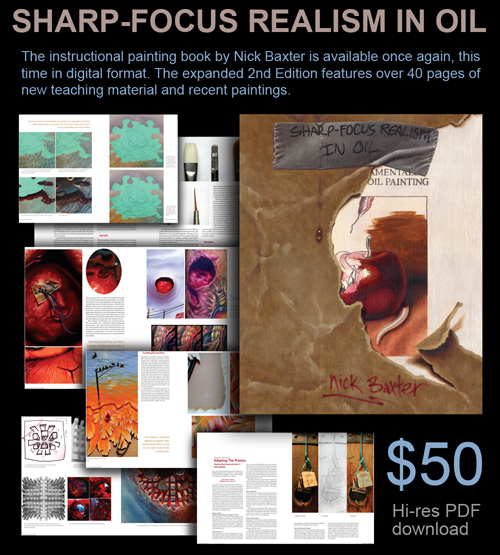 The other big thing happening right now is moving out of my current studio space that I've had for the last 3 years, into a smaller but much better one. This means a month-long studio sale, where I'll be offering 20-30% discounts on any of my currently unsold paintings, in order to clear some space and lighten my load a bit. If you've enjoyed my paintings and fine art but haven't wanted to spring for the purchase, now is an amazing opportunity to collect some work from my last few painting series (2010-2013), as well as some much older pieces at even steeper discounts. All pieces for sale will be marked "Available," and conveniently organized by year and series, on my painting website www.nbaxter.com Have a look and send an email if you're interested in something or have questions about pricing.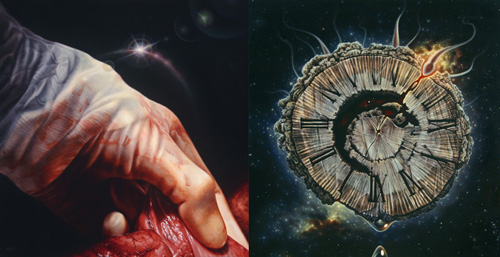 In the process of studio cleaning, I unearthed one of my older prints of the painting "Plastic" from a sold out edition of 18, and am offering it for sale. These prints have been long gone since 2008, except for this very last one. I'm pricing it at $200 plus shipping. If interested, send me an email. Also note, the original painting is still available, too!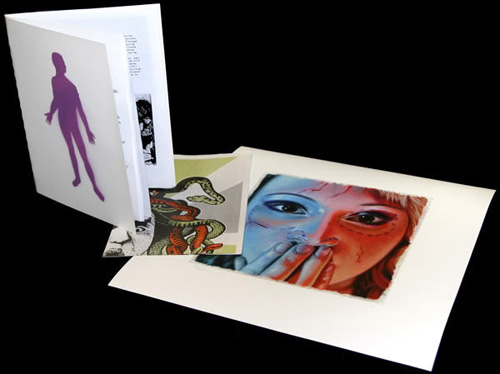 For the past few years I've had an ongoing project of getting my essay Evaluating Art: Principles of Critique translated into all the languages of the world, to help serve the learning of tattooers worldwide. I'm excited to add a Portugese version to the free downloads page, provided recently by my incredibly generous and kind colleague Lucas in Brazil. If that happens to be your native tongue, download the article here. If you have the time and desire to contribute an accurate translation in your native language not already included in the list, please get in touch. It's a great opportunity to encourage sharing and learning, and participate in the building of a stronger worldwide tattoo community.
Speaking of worldwide tattoo community, my good friend and colleague Ramiro Suarez, owner of Ganesha Tattoo in Medellin Colombia, asked me recently to put out a call for guest artists. He's hosted me before and helped with bookings, and is always looking to bring international talent to his region, to help the scene grow there. I had a great time when he last hosted me, and recommend South America for anyone looking for adventure and new experiences. Get in touch with him directly if you're interested.
That's all for now, until Hell City Tattoo Festival next month in Phoenix, and then some international conventions in the fall... More announcements in the coming months. Thanks for reading and supporting my work, I am forever grateful for the opportunity to do all of this.