4/14
Saturday March 29, 2014
April 2014
This month marks the unveiling of my feature interview in Tattoo Artist Magazine Issue #37, with a recent painting of mine being one of two available cover images. I'm really proud of this interview, which was the result of a several-months-long collaboration between interviewer Ben Shaw, editor/CEO Crash, and I. It covers a lot of thorough ground about my life's journey and a wide range of topics important to me and central to my art and tattooing, along with several previously unpublished photos from my childhood and early adult years. Unfortunately for fans and clients, TAM has always been a trade publication available only to fellow tattooers, but I believe this policy might be changing soon. So if you're not a tattooer, check the TAM website for updates or contact them to inquire about it. Sometime in the future I will post the entire interview to this website, but for magazine sales purposes, for now it's only available through TAM.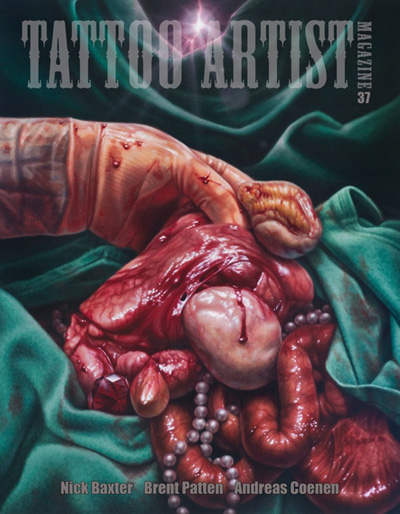 Also happening this month is the Hell City Tattoo Festival in Columbus, Ohio. I will be there as usual, tattooing all weekend alongside my friends Adrian Dominic and Jeff Ensminger. I'm already fully booked, but I have posters for sale as well as the usual free goodies like stickers and assorted reading material.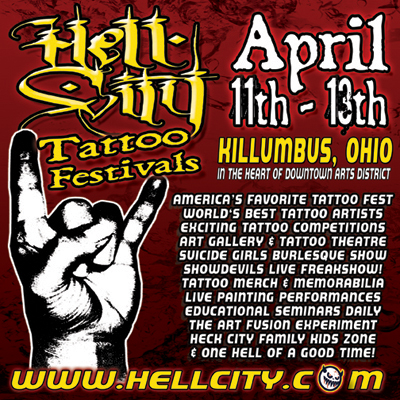 If you own a smartphone, you can now enjoy a much better viewing experience of this very website, which was recently converted by my trusty website guys at TattooNow into a responsive site. This means that nickbaxter.com automatically loads a streamlined mobile version when opened on any phone with internet access. Check it out next time you're mobile internetting!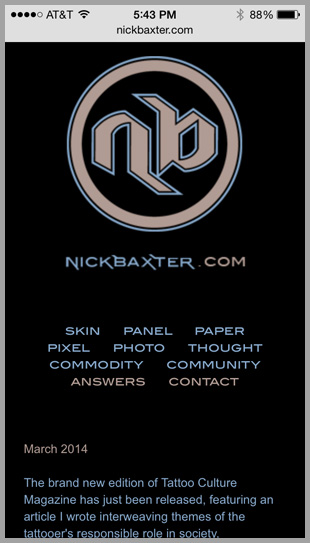 And just in case you missed them, a few social media links were added to the site recently in the lower left corner, so you can navigate straight from any page here to my Instagram, Twitter, or fine art website. If you want to keep better tabs on what I've been up to, I've been posting sneak previews of my in-progress tattoos and paintings over on Instagram, while saving the finished gallery-quality photos for my actual websites.
Lastly, check out my previous few announcements via the "view more" link below, to get info on my limited edition tattoo machine by FK Irons and other projects in the works. Take care and enjoy the new growth and fresh air of springtime!